Even Cricut is quick to admit that materials cut with blades tend to generate dust and debris. Add adhesives to the mix, and you'll be dealing a sticky, mucked-up mat after just a few cuts.
With most Cricut machine mats costing close to $20, replacing these essential elements isn't always an option. The following cleaning and maintenance steps will help you extend the life of your Cricut mats. That means more money for crafting essentials.
How to Clean Your Cricut StrongGrip Mats
The Cricut StrongGrip Machine Mat is the preferred backing for cardstock, mat board, and backed fabric. It's specially formulated to have strong adhesion and a long life. But, the thing about these specialty materials is that they tend to produce a lot of dust.
What You Need:
A clean, emptied sink or like-sized basin
Tweezers
Lukewarm water
Hard bristled brush
Paper towels or clean, lint-free cloth

Step 1: Tweeze
Use your tweezers to remove any large debris. Avoid using overly abrasive strokes. According to Cricut, this will only push debris further into the adhesive.
Step 2: Soak
Fill your (clean) sink with lukewarm water. Be careful to create a firm, flat surface for your board. Then place it into the bath.
Step 3: Use a clean, firm plastic brush to gently scrub the surface of your cutting mat. Continue until you feel that the entire surface of the mat has been cleaned sufficiently.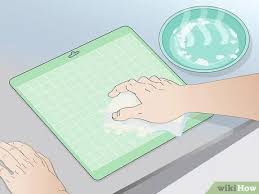 Step 3: Pat Dry
Use paper towels or a clean, lint-free cloth to pat the cleaned mat dry.
Step 4: Air Dry
Allow your mat to air dry before you attempt to make additional cuts.
Can I Use Windex To Clean My Cutting Mats?
Some Crafters swear by a quick Spritz of Windex. Here's what you'll need for this method:
Step 1: Place your mat in a clean sink, just as you would if you were soaking it in water.
Step 2: Spritz the surface of the mat with Windex.
Step 3: Gently massage the Windex into the mat, being careful not to be overly abrasive.
Step 3: Rinse the cleaner and other residues away with a bit of cool water.
Step 4: Use paper towels to pat the mat dry.
Step 5: Set the mat aside. Allow it to air dry.
Can I Use Dish Soap to Clean My Cutting Mats?
You can totally use warm soapy water to revive your cutting mats. We recommend Dawn Dish Soap, but any good dish soap should work just fine.
Toss your mat in bath of warm water first. Use a clean cloth or a magic eraser to gently rub away as much dirt and debris as possible. Apply a small dab of dish soap. Work it into the surface. Use warm water to rinse away any remaining soap suds and material residue . Pat dry with paper towels. Finally, set it aside to air dry.
Your mat should be like new when you're finished.
Check out this video to see a really filthy mat revived with a small amount of Dawn Dish Soap and elbow grease.
Can I Use a Lint Roller on My Mat?
A sticky lint roller will help you remove large debris from the surface of your mat. However, you should always follow this up with a quick rinse and dry.
Can I Use Baby Wipes on My Mat?
Baby wipes are yet another useful tool for cleaning off those filthy Cricut mats. If you're a parent, you probably have a stockpile on hand.
You will need:
Your Cricut Mats
Baby wipes
Step 1: Use a baby wipe to gently wipe any remaining residue off the surface of your Cricut mat. We find that this works best when you rotate the baby wipe in a circular motion. Start in the center and slowly expand the area of your coverage.
Step 2: Replace your baby wipe with a fresh one as soon as it begins to lose its effectiveness. We find that this method works best when the baby wipes are moist. Otherwise, you risk rubbing cotton fibers into the mat.
Step 3: Allow your mat to air dry before commencing your next project.
Can I Use Degreaser on My Mat?
Degreaser does a fabulous job of cutting through stubborn residue.
Here's what you will need to complete this process:
Commercial degreaser
Soap
Lukewarm water
Paper Towels
Spritz the surface of your mat with a bit of commercial degreaser. Use a clean cloth to massage it into the surface. Follow this step with the soap and water method. Be sure to rinse away residue. This cleaning method will enable you to restore the original stickiness of your mat.
How Often Should I Clean My Mat?
According to Martha Stewart, Cricut cutting mats should be cleaned after every two to four cuts. Moreover, you'll want to double up on your cleanings whenever you're working with debris-prone materials, such as vinyl, fabric, and paper.
When Should You Replace Your Mats?
According to Cricut, mats should be replaced as soon as they lose their coveted stickiness. With that said, we have been able to completely revive mats that, by Cricut's standards, were ready to be tossed.
Can I Restick My Cricut Mat?
Crafters have united over a popular Cricut mat hack that involves restoring surface stickiness with the help of adhesive spray. User cover the outer edges of their just-cleaned mats with painter's tape. After which, they give it a quick spritz with Sprat n Bond Basting Adhesive or some other adhesive spray.
While this method has worked well for some crafters, we're hesitant to recommend it. Cricut reps say the adhesive has the potential to damage a machine's inner workings. While we're not fond of replacing $20 mats, we certainly don't want to get stuck replacing a $300 cutting machine.
What's the Deal with the Cricut Scraper?

Cricut's Scraper and Spatula Set enables users to quickly remove small scraps and debris. Both tools are known to extend the life of Cricut's machine mats. They retail for $10.99 but go on sale often.
Wrapping Up
You can easily revive your Cricut mats and make them sticky again by following the simple steps above. Most Cricut machine mats cost close to $20 (check prices here). We don't know about you, but we'd rather spend that moolah on some new vinyl or iron-on.